Little Mountain Team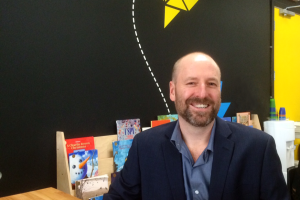 Ryan Tierney
CEO | Owner
Ryan Tierney has been an international educator for over 20 years. He has taught in a variety of environments from teaching children through adults. He has taught management and leadership to corporate executives and worked as a software trainer in Silicon Valley.
Ryan is an Erickson certified coach and is passionate about supporting a coaching culture in children's education. Ryan is deeply appreciative of all the amazing staff and teachers that bring innovative and motivational lessons to students attending Little Mountain.
Ryan has a B.A. from UBC, a TESOL teaching certificate and two post-graduate diplomas in Information Technology and Asian Studies. Ryan also has an MBA.
He is a passionate sailor. In 2016 he crewed in two international yacht races winning the Swiftsure and placing 3rd in the Vancouver Island 360 (a 2 week sailing race around the entirety of Vancouver Island)
---
Kay Han
Operations Manager
Kay majored in English Literature in Seoul and had dynamic experiences living and working in New York. Kay's natural affection toward people lead her to build up her career with a fun-loving teaching approach for a variety of student age groups. Many years of relationships with parents and students supported Kay to start Little Mountain Homeschool in Seoul in partnership with LMLA in Vancouver.
Since LMLA's foundation in 2004 Kay has been in charge of guiding LMLA summer campers from Korea and managing them through every summer for over a decade. Kay had precious experiences sharing in children's learning and communicating with parents. She has fantastic memories with children and building long term trusting relationships with their parents.
As an Operations Manager at Little Mountain Learning Academy Kay has been pursuing working toward making LMLA an ever more affectionate and friendly place for all- LMLA students, parents and teachers.
---
Kang Bi
Admissions Director
Kang graduated from Beijing JiaoTong University with a Master's in Logistics management, department of economics and a certificate in teaching Chinese as a second language from Beijing Language and Culture University.
Kang spent 4 years teaching Chinese in the department of Chinese studies, Kangwon National University, South Korea before moving to Vancouver with her husband and her two daughters.
As Little Mountain Learning Academy's Admissions Director, Kang is dedicated to giving warm and professional counselling services to all of our students and their parents – helping them to achieve their goals.
---
Gareth Randall
Academic Director
Gareth grew up in the diverse city of London, England where he taught for over 5 years after completing his degree in History. He has worked with a wide range of young people, both in the United Kingdom and in Vancouver, the city he now calls home. Prior to relocating to Canada, he was an elementary school teacher and a member of the senior leadership team as head of maths of his school in London.
Gareth has been an educator for over ten years. Here in Vancouver, he has utilized his TESOL qualification as a lead teacher at Little Mountain. He has found great satisfaction in seeing his students succeed and meet their wide-ranging goals.
His passion lies in facilitating a lifelong love of learning and enabling children to become the best they can be. And he believes that his role is to guide students towards becoming independent, informed and able to share their knowledge and ideas with the world with confidence.
---
Vika Frary
Curriculum Manager
Vika spent her childhood in tropical Fiji and not-so-tropical Scotland, and also lived in England and Japan before immigrating to Canada. Her experiences living overseas and learning other languages gives her insight into the cultural and linguistic realities faced by her students.
After graduating from the University of York in the UK, she spent 14 years in the Tokyo area teaching all ages from toddlers to seniors. Vika is a big believer in active learning, and she strives to create an atmosphere full of energy and positivity in her classroom. She specializes in teaching beginners and younger students, where her bubbly personality is especially effective.
Her extraordinary experience in teaching enables Vika to become a curriculum developer now. Her curriculums are useful tools for English learners to break through the barriers in their studies.
---
Chantel Duncan
Lead Online Teacher
Chantel was born in Toronto, Canada. From an early age, she has had a keen interest in languages. She pursued her interest and majored in French studies at York University Glendon Campus. While learning French as a second language, she became aware of the difficulties in second language acquisition from a learner's perspective. She became enthralled with the English language, and through her tutoring experiences, she realized her passion for teaching.

She is currently completing her B. A in English linguistics and has completed a TESOL certification. By working with teachers from York University English language Institute, she gained insight into various methodologies. Chantel has since worked with many students of varying learning styles for more than a decade. She is committed to making lessons engaging, meaningful, as well as interactive. She believes that every student learns in their own unique way, and she is determined to help all students reach their maximum potential.
---
Sandra Tsang
Academic Coordinator
Sandra Tsang was born and raised in Canada. Her interest in human behaviour led her to the University of British Columbia, where she earned her B.A. in Sociology and Psychology.
Having studied human behaviour and interaction, she understands the important role language plays in understanding a new social and cultural environment. Sandra has dedicatedly volunteered her time to teach new learners of English due to her firm belief that language and culture are strongly connected.
Sandra has worked with many students in the past, including those with diverse abilities and needs. She also has experience in teaching and facilitating conversational English with International students. For Sandra, the best part about teaching is sparking curiosity in students and helping them achieve their personal goals.
---
James grew up in Yorkshire, England. After studying language acquisition theories, he soon developed a passion for language learning, and the study of language learners themselves. He completed a BA in English Language, followed by an MA in Psycholinguistics. His main area of research was bilingualism and second language acquisition, and the interaction of two or more languages in the brain. He also holds a Postgraduate Certificate of Education from a UK University.
James first started teaching English language and literature in 2014 in England. Working in a challenging school with students from a variety of cultural backgrounds, he learned the importance of having good relationships with students and building a positive atmosphere in the classroom where all students feel at home. James encourages students with positive reinforcement to become more confident and curious, thus growing as learners.
A winter sport enthusiast, James enjoys spending free time snowboarding in the mountains around Vancouver or at the hockey rink.
---
Leona Lam
Marketing Specialist
Leona was born and raised in Vancouver, BC. She graduated from the University of British Columbia with a Bachelor of Commerce. She is passionate about education and has previously worked in multiple education marketing roles.
Leona has previously worked in a Public Relations role for authors and speakers in the Financial Literacy sector, helping many young adults learn how to properly handle their finances. She has also worked at an aquaculture company to create fun educational material for elementary school students.
In Leona's free time, she enjoys creating new recipes. Her recipes cater to many dietary restrictions, such as gluten-free, dairy-free, and vegan!
---
Almira Dela Reyna
Teacher
Almira is from Toronto, Canada. She studied linguistics at the University of Toronto. She worked for a non-profit organization that ran after-school and summer camp programs for students ages 6 to 18 years old.
After many years of working with children and youth, she decided to make a life-changing move to China to teach English as a second language. She moved to a beautiful city called Hangzhou, where she spent four years teaching children and adults. While in China, she taught in renowned public schools and international centres.
Almira started building her professional career in education, leisure, and recreation in 2009, and after all this time and many different countries, she now continues to inspire and teach the students of Little Mountain while based in England!
---
Brinela Miskovic was born and raised just west of Toronto, Canada. Inspired by teachers from her youth, Brinela's passion for both kids and teaching only intensified during her diverse, and enriching academic years.

Coupled with her background in Behavioural Therapy, Brinela earned her B.A in Linguistics in 2000 from Brock University, propelling her to a rewarding and seasoned 20 year career teaching children with Autism various skills, including learning the English language. Since March 2020, Brinela has also worked intensively with kids aged 4 to 15, teaching English skills and grammar to Chinese-based students,
successfully establishing a strong foundation for confident English communication. Her years of experience, and commitment to excellence have given her insight into various teaching styles that have proved effective and beneficial to teaching children of all skill levels.

Brinela's extensive experience has solidified her rock-solid reputation as a dedicated educator. For Brinela, it's all about the kids, knowing that she can tailor her teaching methods to the students' needs, tracking and helping students reach their personal goals – all continue to be her favourite aspect of teaching.
---
Alicia grew up in southwestern Ontario, in the small town of Chatham. She completed her undergraduate degree at the University of Western Ontario and her education degree at D'Youville College in Buffalo, NY.

Alicia has over 11 years of teaching experience. Her homeroom teaching experience varies from classrooms in Canada, Dubai, Abu Dhabi, and Kuwait. Alicia has a love for teaching and guiding her students toward success. She understands that language acquisition takes time and dedication. Alicia is excited to be part of the team and looks forward to making a difference.
---
Alanna holds a BA degree in Sociology from York University and is a TESOL certified ESL Teacher. She has 15+ years of teaching and education experience.
Alanna is passionate about enriching the lives of young learners, through a variety of activities geared towards overall wellness. With her background in the performing arts, she applies these skills to her life and work to spread compassion and thoughtfulness in her surroundings. She believes in learning and collaborating with students and using their personalities, curiosities and imaginations as a foundation to deliver exciting content that plays to their strengths and life experiences.
Alana's other interests include the arts, business operations and administration, and the nonprofit sector.
---
Kelly-Marie Clarkson
Teacher
Kelly was born and raised in Kingston, Ontario. She is a graduate of Queen's University, majoring in Health Studies and minoring in Psychology. During her time at Queen's, she studied such topics as advanced child clinical psychology, brain and behaviour, social determinants of health, and developmental psychology. She will also be starting her Master of Arts degree in Counselling Psychology this fall.
Kelly has completed her 120-hour advanced certificate in Teaching English as a Foreign Language (TEFL) and brings three years of online teaching experience to Little Mountain Online.
A fun fact about Kelly is that she is also learning a second language! She has received her certificate in Conversational Languages: Korean, from the University of Toronto and enjoys traveling to South Korea to spend time with her husband's family.
---
Yolande was born and raised in Toronto, Ontario. She first graduated from the University of Toronto with an Honours BA in English and History, and later completed her Bachelor of Education from York University. She loves books, literature, and teaching students!
Yolande has previously worked for international schools overseas in South America and the Caribbean where she taught all subjects to English learners in a full-day, English immersion environment. She is currently in her 18th year of working for the Durham District School Board in Toronto as an elementary school teacher for grades K-6 where she strives to provide an engaging learning experience for her students.
In Yolande's free time, she likes to read, do home renovations, and travel with her family!
---
Dawna is a certified teacher from Canada. She graduated with a Bachelor of Arts with a double major in History and Arts Administration. After falling in love with teaching, she went on to complete her Bachelor of Education with a specialization in primary and junior education. She also holds a TEFL certification and a Teaching English to Young Learner's certificate.
Dawna has spent many years teaching students of different backgrounds and cultures. She spent over a decade in Seoul, South Korea teaching in public schools to elementary-aged students. She loved implementing project-based learning studies and reading programs during her time there. She also has experience teaching ESL online to students based in Saudi Arabia. She has spent time, both in classrooms and online over the past 15 years, teaching students of all ages, including adults. She couldn't have asked for a more rewarding journey.
When she is not dedicating her time to seeking new educational materials and teaching methods, Dawna likes to find time for her hobbies, which include photography, writing, and travel. She loves languages and is always trying to perfect her Cantonese, French, and Korean skills in her spare time.
---
Jolly Lei
Administrative Assistant
Jolly Lei graduated from Trinity Western University with a B.A. in Leadership. She has also completed a Diploma in Business English in Mainland China. Studying abroad enables Jolly to understand the difficulties and struggles that students encounter while learning English and adapting to the local culture.
Jolly is passionate about helping Little Mountain Learning Academy students learn English efficiently by sharing her productive learning background and experience.
---
Bunny Gu
Administrative Assistant
Bunny comes from Beijing and received her university education in Beijing Language and Culture University. Afterward, she acquired her Master's Degree in Education and Teaching License in both primary and secondary schools in Australia.
Bunny has dedicated herself to Education career for nearly 20 years, including primary school room teacher in Australia, IELTS & TOEFL teacher and Education Manager in Beijing and K-12 Education Consultant in Vancouver.
Bunny spends most of her leisure time with her family watching and doing various sports activities. She is enthusiastic about soccer, swimming, and tennis. She also enjoys reading and writing in her spare time and has maintained her membership in Beijing Writers' Association for more than 15 years. As a happy mom and an experienced education professional for years, she fully understands parents' feelings and struggles in children's upbringing and is always eager to help more families on their way to life-long happiness and success!