A child's first days at a new school, in a new country, and in a new language can be overwhelming. Many ESL students worry that they won't be able to keep up with classwork, or that they'll have difficulty making new friends in their second language.
Fortunately, there are plenty of ways parents can help, from establishing good study habits and providing extra support at home, to enrolling their child in an after-school ESL program that will accelerate their acquisition of English.
Read on to learn more about how you can help your child transition smoothly into an English school in Canada.
Visit the School & Talk to Teachers about your Child's ESL Abilities
Before your child begins the school year, it's a good idea to visit the school and meet some of the teachers or principal. Many English schools in Canada offer ESL support to new students, and discussing your child's strengths and weaknesses will help teachers determine how much help is needed.
Establishing a relationship with teachers and staff early on sets the tone for productive collaboration throughout the year, which helps ensure you are kept up-to-date on your child's academic progress.
Familiarize your Child with their New School Routine
If your child feels nervous about starting a new school in a new neighbourhood, it's a good idea to familiarize them with their new routine, even before school starts.
Try driving along your child's travel route to school so he or she can learn landmarks along the way. You could even bring your child to visit the new school a few days before the first day of class. For younger students, you could also point out exactly where you will be dropping them off and picking them up each day.
Continue Using Your Child's First Language at Home
While it's good for the whole family to practise English at home, you don't want to cut out your child's first language completely. Not only is their first language an important part of their identity and culture, but in today's globalized world, knowing two or more languages is considered a major advantage.
Enroll Your Child in an After-School ESL Program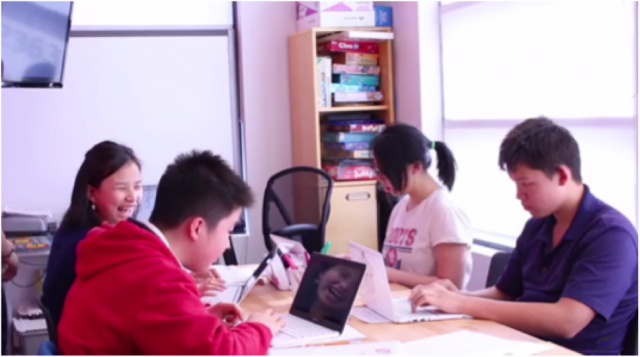 After school English programs offer many benefits to ESL students. With the support of experienced and friendly instructors, students build their confidence speaking English while strengthening reading, writing, and research skills.
Progressive English classes for kids in Vancouver engage and motivate students with creative, project-based learning that requires them to apply technical skills (like grammar and pronunciation) and really deepen their understanding of the English language.
Regular assignments and assessments help each child reach their English learning goals, and quickly transition out the ESL stream at school.
Parents can Encourage Strong Study Habits at Home
Good study habits often start at home. Structured study time helps kids develop discipline, manage their time effectively, and improve their English skills more rapidly.
As a parent, you can help your child develop good study habits by setting aside some time every evening for homework and English practise. You might pin a large dry-erase calendar on the wall of their room to keep track of important assignment deadlines and learning goals.
At-home study should also be fun! Try reading a simple story or news article in English together each evening – either in print or online. Listen to pop music in English or a podcast. Discuss the meaning and ask plenty of questions, and before long, English will become a regular part of your whole family's daily routine.
---
Looking for a trusted ESL school in Vancouver? Give us a call at 604-221-2363 to learn more about our ESL program information.