In today's information age, kids have more opportunities than ever before to learn both inside and outside the classroom. They develop new skills at school, access the latest research at their local library or online, and use creative apps to engage in learning while on the move.
Of course, just because kids have plenty of opportunities to learn doesn't mean they automatically feel motivated to do so!
For many ESL students, learning can feel like a chore rather than an exciting new adventure. They might be interested in a topic, but associate learning with feeling confused in class because they can't follow instructions in English. They might also feel bored by conventional teaching techniques like memorization and other forms or rote English language instruction.
How can an enriched ESL school light the spark that will help your child improve their English skills and develop a lifelong love of learning? Read on to find out!
What is Lifelong Learning & Why is It Important?
Lifelong learning is about cultivating an enduring curiosity and a desire to learn – not just in class, but in every area of a child's life.
Often, students will discover topics that interest them – whether it's a subject at school like math or science, or a hobby like hockey or cooking. Children who have experienced positive and enriching learning experiences are far more likely to feel confident about pursuing new educational goals. They approach each new topic with excitement and understand how to overcome obstacles. This thirst for knowledge sets a strong foundation for success in school – and in life!
What are the Benefits of Lifelong Learning?
Students who are lifelong learners are better prepared to grasp new technology, new academic challenges, and opportunities for personal growth. They are able to generate creative solutions to challenging problems, and have open minds that are receptive to new ideas and points of view.
The capacity to continue learning new skills will also impact your child's future professional development, and may even improve their overall health and wellbeing. Studies have shown, for example, that lifelong learning promotes healthy aging and cognitive health well into adulthood.
How Does Effective ESL Education Inspire Lifelong Learning?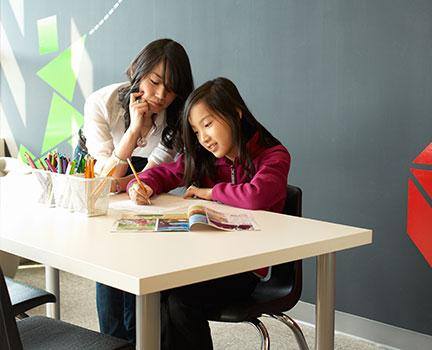 Learning a second language is often a lifelong process. Even native English speakers continue to learn new vocabulary and expressions every day! It's no surprise that encouraging an appreciation for lifelong learning is integral to effective ESL instruction.
At Little Mountain Learning Academy, our approach of teaching English includes presenting students with creative, challenging learning situations that will spark their interest and keep them engaged both in class and at home. Experienced ESL instructors go beyond rote learning so students will feel excited about building their fluency in English and achieving their academic goals.
Using creativity, project-based learning, and one-on-one coaching, Little Mountain ensures each child is excited to enhance their English language skills and confident in their ability to aim high and do well.
Little Mountain's educational approach is about more than teaching kids English grammar and vocabulary. Effective ESL instruction inspires children to develop a love of learning so they will continue to pursue excellence (and improved fluency) throughout their entire lives.
---
Are you looking for enriched English language programs for kids in Vancouver? Give us a call at 604-221-2363 to learn more about our program offerings.